If you love Thai food, then you have almost certainly tried or heard about mango with sticky rice before. Although Thai cuisine has a good variety of desserts, this is by far the most popular one. Simple and heavenly delicious, the magic mix of yellow ripe mango, sticky rice, coconut cream, sugar and a tinch of salt is adored by people all around the world.
In Thai, the name of the dessert is khao neow mamuang. "Khao" and "neow" mean rice and sticky. "Mamuang" thus refers to mango.
While the recipe is fairly simple, there are a few things to point out. Preferably, you should use Thai mangoes if your local Asian market imports them. They are less fibrous than their green and red counterparts which are more common in Western countries. For the rice, make sure to use glutinous rice, not regular Jasmine rice. Finally, the traditional recipe includes coconut cream (as opposed to coconut milk) which provides the rich coconut flavor and texture.
As Mark Wiens points out in his food blog, the aesthetic presentation of Thai food, including desserts, is very important. To follow the Thai street style, the mango is usually cut in big slices and laid on top of the sticky rice. But why not make very thin slices and arrange them like this:
You could also pep up the sticky rice by adding some color to it:
As shown above, there are ways to reinvent the famous Thai dessert without changing its taste. However, the mango sticky rice tart takes it to a whole new level.
Imagine your mango sticky rice beautifully spread on a thin and crusty tart shell. When I first tried this a few years ago, I immediately fell in love with it.
What makes this creation so special is the crust. While the overall flavor isn't much different, the tart adds a nice crunchy texture.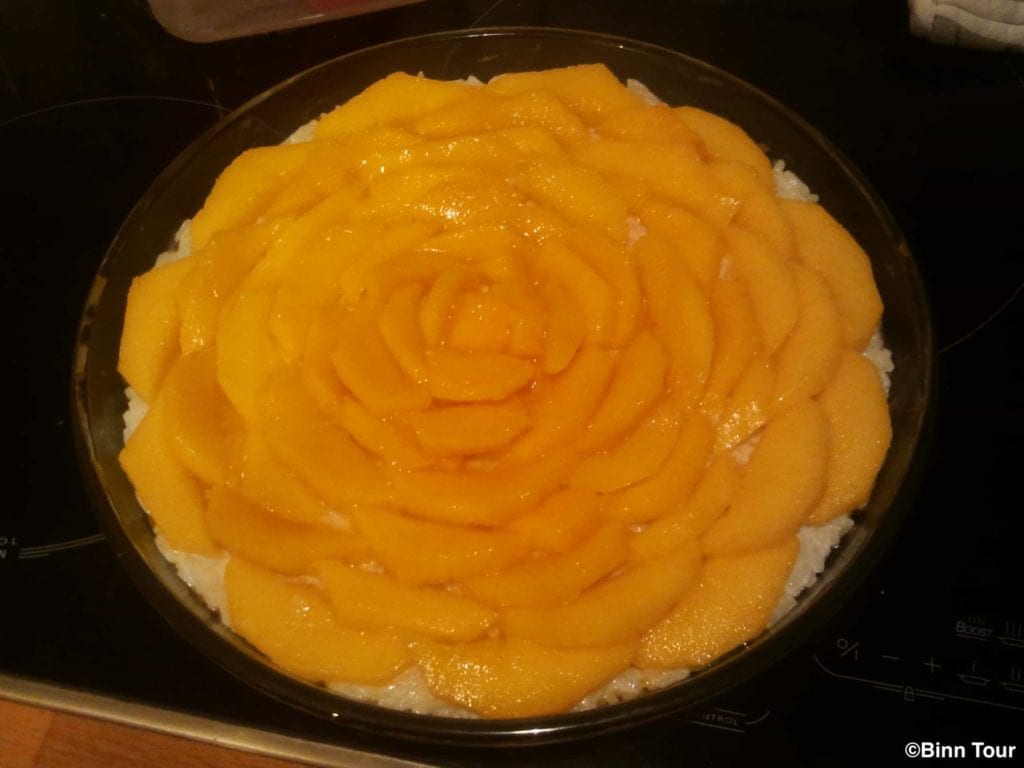 You can find a recipe by Nick Malgieri on Leela's blog She Simmers. It is almost foolproof and uses?regular Jasmine rice instead of glutinous rice which involves less preparation time.
I'm sure whatever type of crust you choose to make, the result will be delicious. The mango sticky rice tart is a very original way of presenting and eating this all-time favorite Thai dessert. Enjoy!