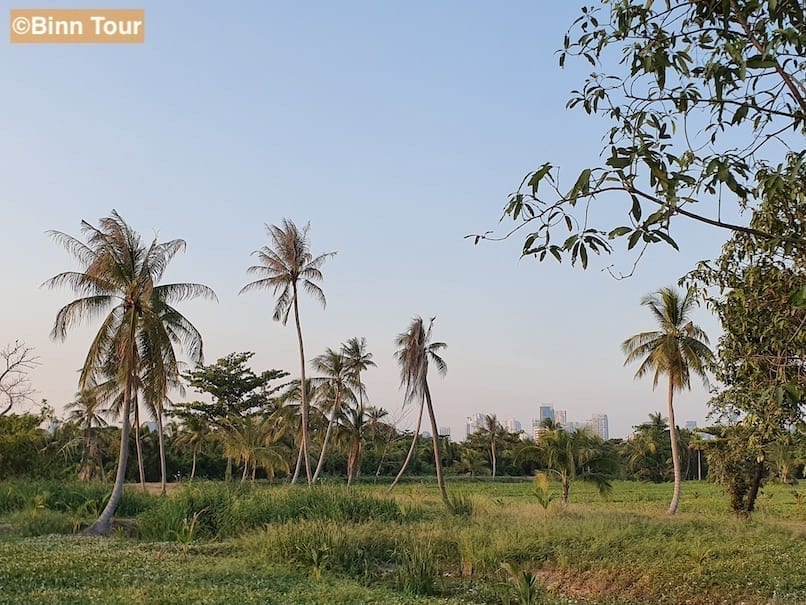 Truth be told, "hidden diamonds" don't exist in Bangkok – at least not for a long duration. Bang Kachao has been a popular sanctuary for Bangkokians and international visitors for many years. In 2006, the artificial island was named "best urban oasis" in Asia by the Time magazine and has since drawn a great number of nature enthusiasts and cyclists to its shore. Moreover, it is not actually part of Bangkok but administratively attached to Samut Prakan Province.
Nevertheless, Bang Kachao is rightly called the green lung of Bangkok due to its proximity to the capital and its vast, lush green landscape. No shopping malls here, but instead palm trees and a myriad of dogs bathing in the sun and watching the day go by. Perhaps like me, you will feel far away from the big city. And yet, behind the thicket of Bang Kachao the top of high-rise buildings emerges here and there recalling the much busier world to which this green jewel is tied.
Things to do in Bang Kachao
Bang Kachao lies inside of a wide loop in the Chao Phraya River south of Bangkok. The close distance to the capital makes it a perfect destination for a day trip. It is possible to see most touristic sights within a day. However, it is not uncommon to stay over for one or two nights and some of the highlights can only be experienced after sunset. The best time to visit Bang Kachao is over the weekend when most attractions, including the famous Bang Nam Phueng Floating Market, are open.
1. Visit Bang Kachao on a bicycle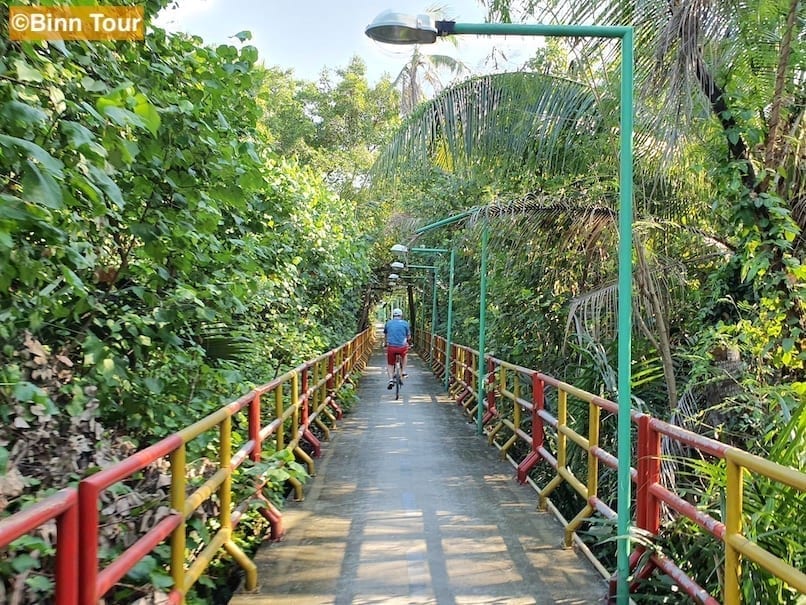 The most fun activity in Bang Kachao is to explore the island on a bike. There are bicycle rentals next to the main arrival ports. For as little as 50 Baht, you can rent a bike for a day. The streets are in good condition and there are far fewer cars than in Bangkok. However, I highly recommend to get off the main roads and use cycling trails whenever possible to immerse yourself in nature and see how the local people live. Watch out as most of these trails are built above the ground and can be quite narrow.
2. Visit the Sri Nakhon Khuean Khan Park & Botanical Garden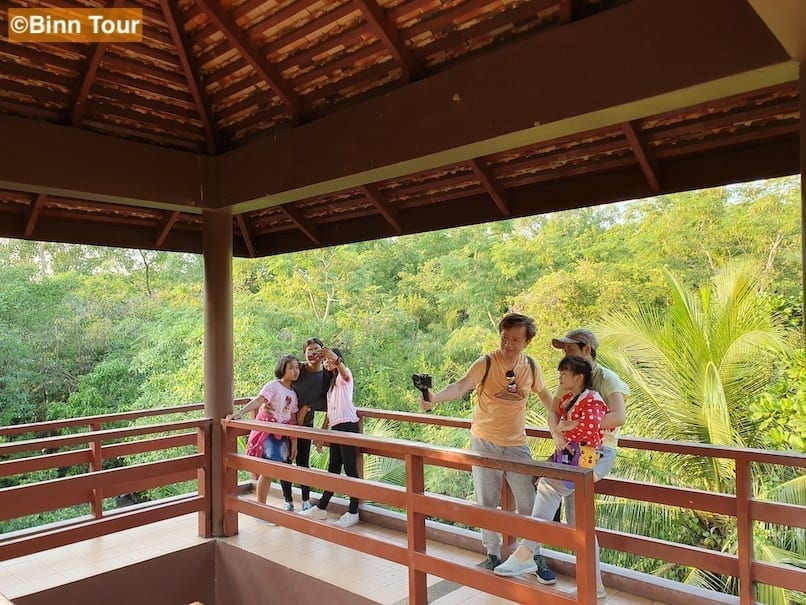 If Bang Kachao is the green lung of Bangkok, the heart of the island lies in the Sri Nakhon Khuean Khan Park and Botanical Garden, a vast green area in the northern part of the island. It encompasses a natural forest, which provides a center for learning, and a beautifully designed park for recreational activities. A bird watching tower offers impressive views in the midst of a dense forest.
3. Visit the Bang Nam Phueng Floating Market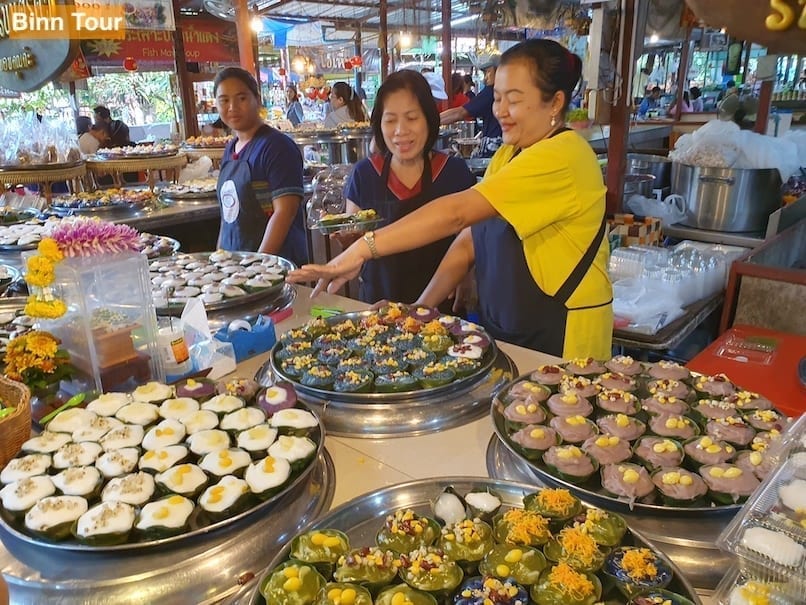 The Bang Nam Phueng Floating Market is a must-visit place when you come to Bang Kachao. Open on weekends, it is one of the biggest (and cheapest!) markets that I have visited around Bangkok. There are many places to sit down and order a meal. But it's more fun to try out a variety of snacks and desserts as you stroll from stall to stall.
4. Visit Bang Kachao's temples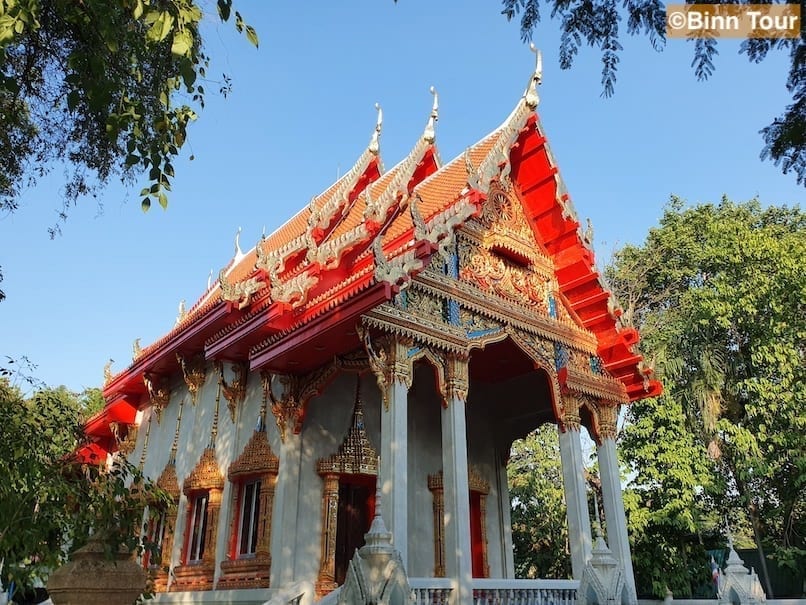 Bang Kachao is home to many beautiful temples. This includes a Hindu shrine dedicated to Ganesha. Among the Buddhist temples, you can visit one of the oldest temples in the region. Wat Chark Daeng, located in the southern part of the island, was constructed in 1782 at the time of Bangkok's foundation as a capital. Moreover, the temple complex features a chedi (Phra Samanta Mahapattan Chedi) which used to enshrine a relic of the Buddha.
5. Enjoy a relaxing atmosphere by the Chao Phraya at sunset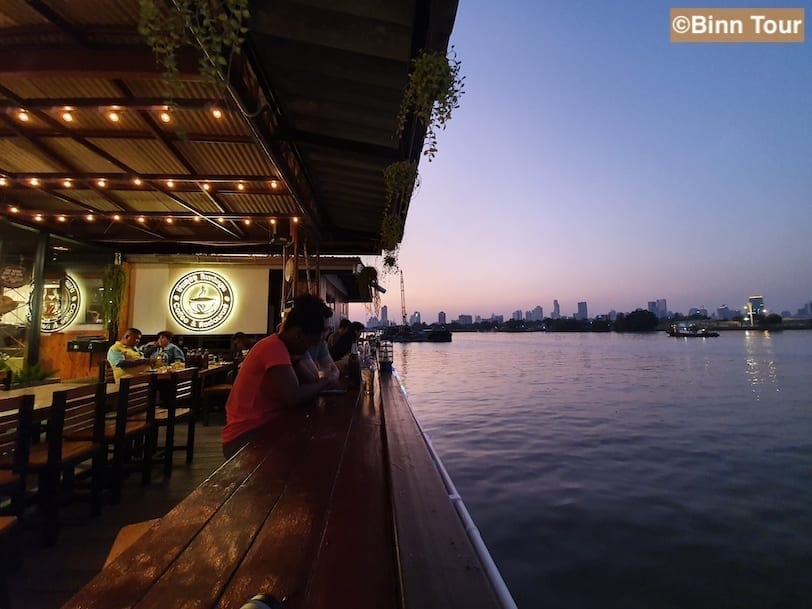 In Bang Kachao you're never far from the Chao Phraya River. Come sit and relax in some of the restaurants and bars along the west coast to enjoy a great view of the Bangkok skyline at sunset.
6. Observe fireflies at night
Bang Kachao is a precious environment where you can spot rare fireflies when night falls. The best period to encounter the lightning bugs is typically from the rainy season throughout the "cold" season. It can be difficult to capture them on picture, but if you're lucky to stumble upon a swarm of fireflies, it is a magical sight not to be forgotten.
How to get to Bang Kachao
The island is accessible from several ports. If you're on the BTS, the easiest way is to get off at Bang Na station and take a taxi or songthaew to Sanphawut Pier. The ferry (4 Baht/adult) will take you from here to Wat Bang Nam Pheung Nok Port on the east side of Bang Kachao. If the MRT is more convenient, get off at Khlong Toei station and take a taxi to Khlong Toei Pier. The boat will drop you on the northwest side of the island. Whether you transfer from Bang Na or Khlong Toei, the boat ride will take 10 minutes at most. For those who are planning a day trip to Bang Kachao, keep in mind that the last public boats finish their service at around 9pm.
Where to stay in Bang Kachao
88 Homestay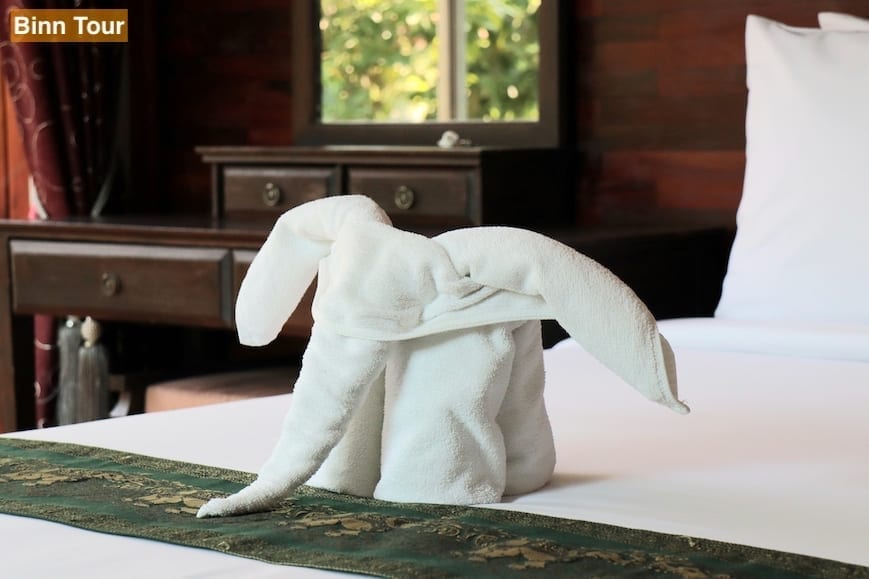 The 88 Homestay has a total of 5 rooms set in a serene garden. Some of the rooms have a terrace where you can eat breakfast. The homestay provides free bikes and breakfast ? la carte is included if you book directly with them.
Where to eat in Bang Kachao
Baanlungau
This restaurant is very close to the northern ferry port at Bang Kachao. Many Bangkokians also arrive here by car. Expect a long waiting time in the evening. However, the food is delicious and the view by the river is well worth a visit even if it's just for a coffee or drink.
Baan Baan Bang Kra Jao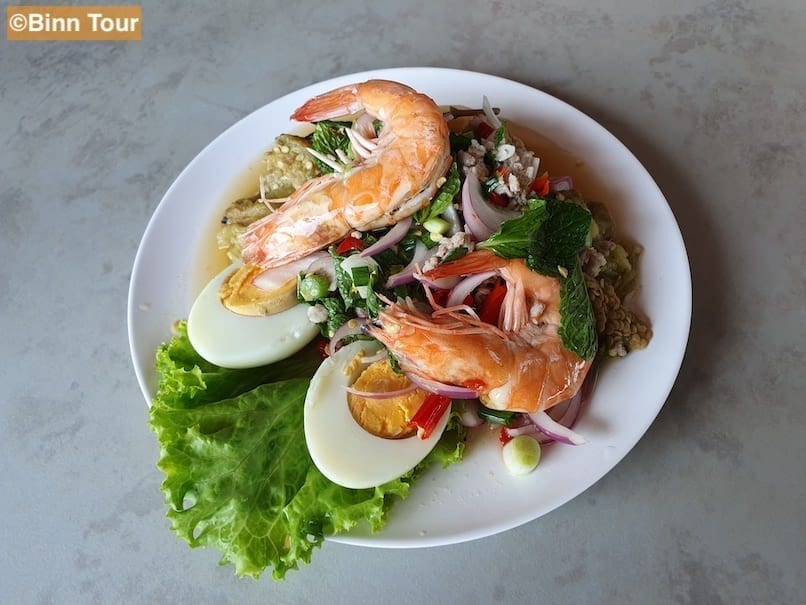 Baan Baan Bang Kra Jao is in a more remote area of the island, but offers a pleasant view by the river and has a good menu with traditional Thai dishes.
Conclusion
Bangkok's "secret oasis" has largely preserved its unspoiled character and agricultural environment. It is an ideal getaway from the bustling city of Bangkok without being short of fun activities. Transfering from the Bangkok riverside to Bang Kachao provides not only a dramatic change in scenery but also in the pace of life. But although change has been slow to reach Bang Kachao, the pristine island is not entirely out of the target zone for developers. It is hard to say whether its abundant nature can be preserved. As a result, Bang Kachao is probably one of the best spots to visit now.